DentalPlus
features
User friendly software that puts all your tools at your fingertips.
---
DentalPlus is a complete practice management system that helps you do all your daily practice tasks swiftly and easily. We listen to your precise needs, to make sure your system is just right for you.
Simple colour coding makes it intuitive and easy.
Find all the information you need in one place.
Complete forms and make & accept payments online.
Personalise DentalPlus to suit your practice.
Practical claims management system.
Create and manage targeted marketing campaigns.
Gather statistics and create patients communications.
Fill in and manage forms electronically.
Reduce FTA's, manage recalls, reminders and appointments.
Unlimited access from anywhere on any device.
Integrated postcode finder, x-ray software & appointment card printing.
Appointments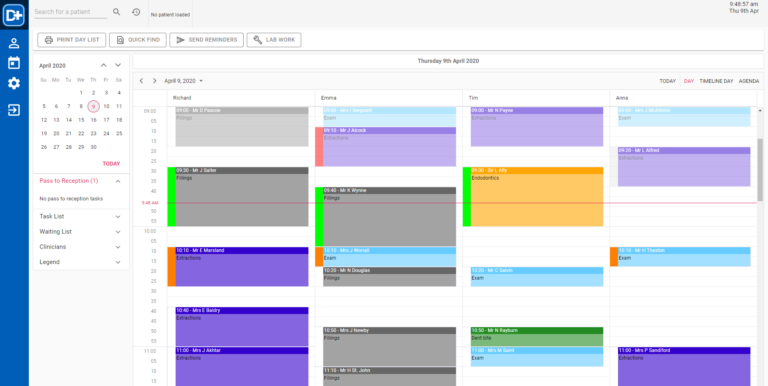 Manage appointments and view each day with appointment book. Simple colour coding makes it intuitive and easy. Tailor appointment lengths, show multiple clinicians, show holidays, working hours and blocked slots, along with day notes and clinician-specific notes.
Features
1 day view / 5 day view / list view

Reception view

Day list printing

Email and text reminders

Quick find for appointments

Clinician notes
Patient Record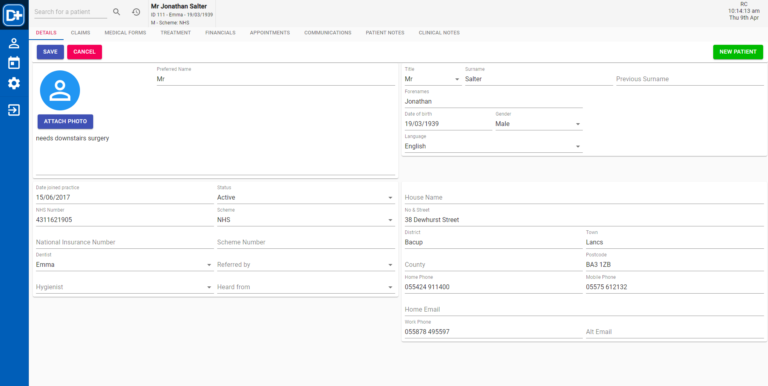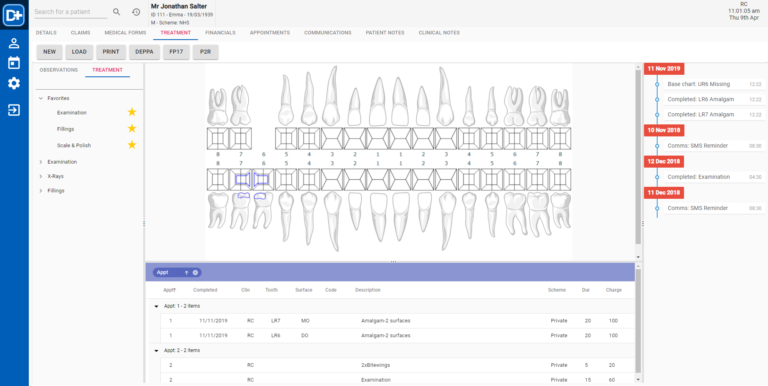 You have access to patient details, treatment records, clinical notes, Perio charting, communications, financials and medical history – including important medical issues.
Patient Details
Colour coded by status and scheme

Important medical alerts appear in icon format
Set default recall periods
Set preferred method of contact
Group patients
Patient Details
Medical History
Use our standard Medical History or add your own
Complete on the computer, tablet or print a paper copy
Important medical alerts appear with icons
Other medical forms can be added
Treatment
Create and manage treatment plans
Multiple plans and estimates
Add and view clinical notes
Create multiple appointments for a course of treatment
Add items to the watch list
View clinical notes, medical history and other forms in the treatment screen
Clinical Notes
View full history of clinical notes
Create new notes from scratch or from set templates
Make clinical notes tooth specific
Up to 48 hours to edit or delete
Perio
Create brand new perio charts, BPE's, plaque index charts and intra oral exams
Save completed charts for a full history
Print current or previous charts
Print perio comparison
Online Forms & Payments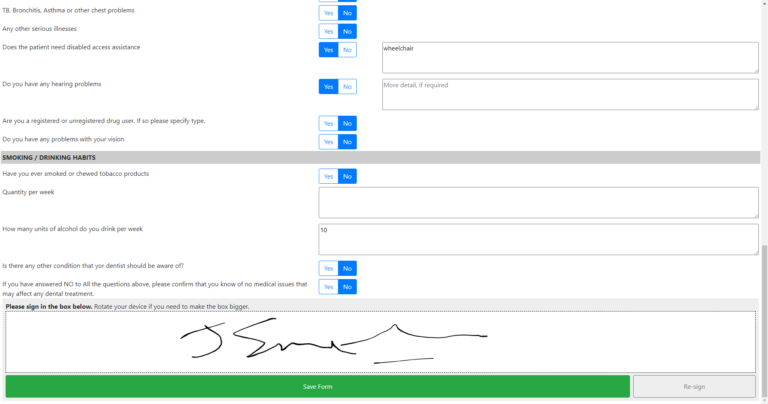 Online forms for patients to complete before attending appointments. These include Medical History & Covid 19 Screening and Treatment Consent forms.
Facility to accept payments online. Enabling patients to pay at any time for example deposits and post treatment requests.
Admin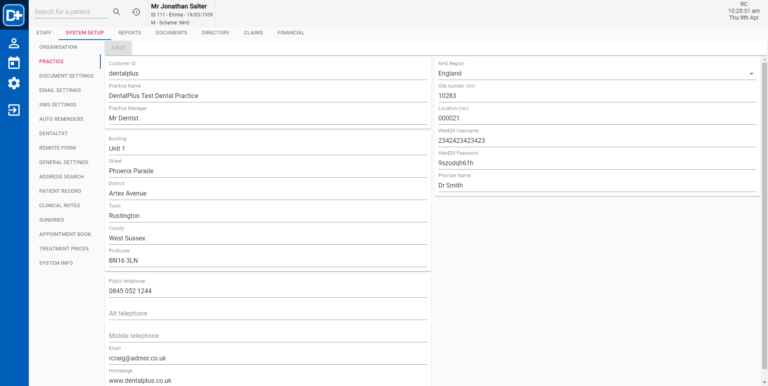 Using the Admin section of DentalPlus, you can manage the settings for your practice, create a range of reports, set up document templates, create a directory of your contacts, manage your NHS claims and manage the practice financials.
Personalise DentalPlus using the system and clinician settings
Add and amend clinical note templates
Add new sundry items and prices
Full history of delivery reports in DentalPlus Text
Run a range of financial, appointment, patient, clinical and NHS reports
Create document templates for letters, emails and texts using mail merge features
Create a directory of important contacts such as referring dentists and labs within the dental software
Track your NHS claims
Manage the financials of the practice with the cashing up feature
Find all the information you need in one place. You have access to patient details, treatment records, clinical notes, Perio charting, communications, financials and medical history – including important medical issues.
NHS Claims Management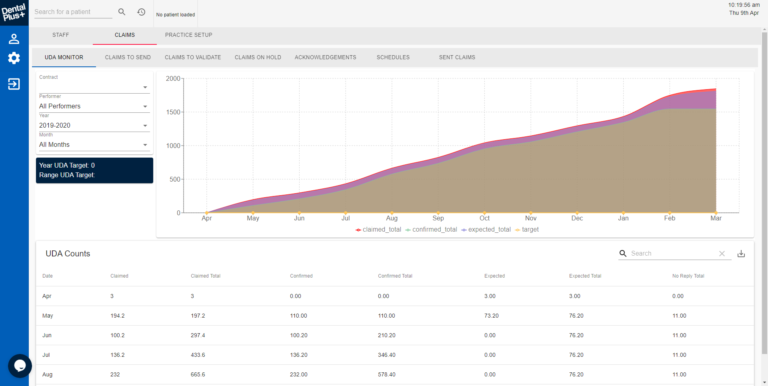 DentalPlus offers a practical claims management system, certified by the NHS that enables you to manage all your NHS claims competently direct from your dental software.
Submit batched FP17 claims to the DPB. All responses from the DPB are downloaded, analysed and stored with the option for you to run a number of reports to keep up to date with your claims.
Patient Details
Send FP17 claims by batch
Receive acknowledgements and messages from the DPB
View schedules
Full history of sent claims
Marketing Suite
Use our advanced marketing software tools to create and manage targeted marketing campaigns, promote treatments, offers and estimate revenue. Allow patients to complete multiple patient surveys on a tablet to evaluate your practice's performance. Our informative data cleansing facility will help you identify bad data which will be flagged within the patient record enabling you to update details as required.
Patient Details
Create and manage targeted marketing campaigns
Patient surveys and questionnaires
Revenue estimation
Data cleansing
Reports
Choose from a range of financial, appointment, patient, clinical (dental and hygiene) and NHS reports to gather various statistics and create communications for patients.
Current Reports Include
Daily takings
Cash ups
Outstanding debitors
Patients with no appointment or recall
Referred Patients
Recalls due
Waiting times
NHS claims at statusl
FP17 counts
Plus many more
Digital Signatures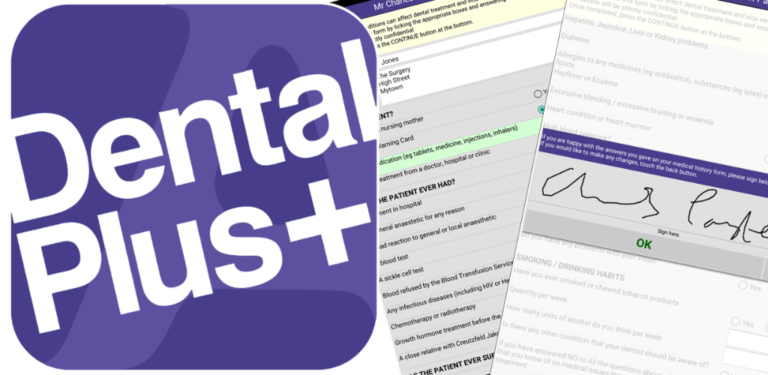 Use an iPad or Android tablet to capture data in the dental software using the Digital Signature feature. Patients can complete their medical history, sign treatment plans and complete other forms without the need for paper. The information will be encrypted and sent directly to your server where it will be stored in the patient record within the software.
No more filing
Save space in the practice
Safe and secure
DentalPlus Text
Instant communication with patients is available using DentalPlus Text. Text messages are a vital marketing and communication tool which will lead to a reduction in FTA's. Recalls, reminders, appointments and other documentation can be sent via text.
Cloud/Web Based
Login in from anywhere on any device
Access for iPad, Phone, Laptop, PC
Work for anywhere in the world
As many logins as you like to set up
Additional Features
DentalPlus also offer additional features to help in the running of your practice and enhance the experience of our dental software.
Postcode Finder
If you are a practice that welcomes a high volume of new patients, the postcode finder is the feature for you. Search for addresses by postcode saving the practice valuable time.
Integrated Appointment Card Printing
Appointment cards can be printed directly through DentalPlus. Admor provides a range of appointment cards and Zebra printers at competitive prices.
Integrate your digital x-ray software
Your digital x-ray software can be integrated and easily accessed through DentalPlus.
---
DentalPlus' IT department, the most amazing team I have ever come across in my professional life working in the Dental Environment. From the setting up to the data transfer, flawless help, never a delay in answering any of my e-mails, information and step by step tutorials always ready. This product is great quality and the full team behind it too.

Ms F
DentalPlus matched the price of our current provider. Their product is simple yet effective, with lots of features to make your daily experience easier. Easy to maneuver around the appointment book, find patients, etc. The Accounts manager, is a sweetheart, very knowledgeable about the software and a total joy to have as the Induction teacher.

Ms F
DentalPlus stood out with it's easy-to-use and intuitive interface, driven by powerful functionality that was able to meet all of our requirements.

Dr B